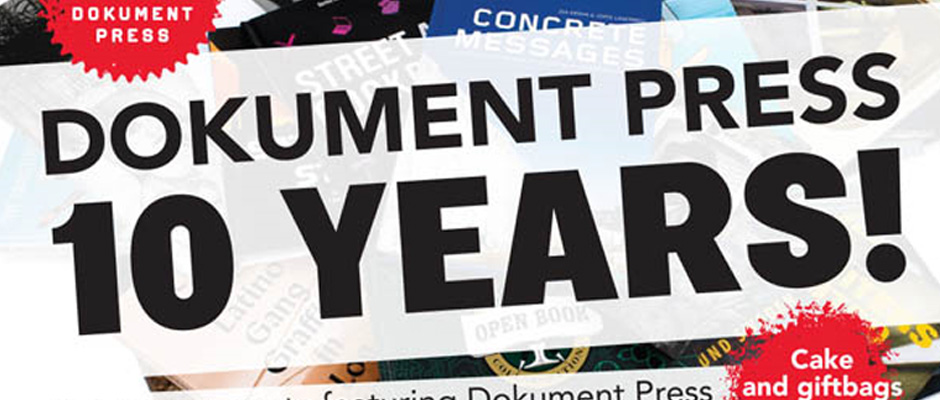 13th of Oct – The Dokument Press 10 Year Anniversary party!
Since 2000 Dokument Press has published some of the most appreciated books in arts, music and street culture. With both authors and readers from all over the globe Dokument Press is Swedens most international publisher.
After 10 years in the game it's time to celebrate what we've achieved and look forward to what is yet to come.
The 10 Year Anniversary party also hosts the release of the new titles Rockin' It Suckers and Concret…e Messages and will feature authors, musicians and pictures related to Dokument Press:
-Alain "KET" Maridueña (US) presents Rockin' it Suckers about New York Citys most wanted graffiti vandals.
-Zia Krohn (DK) presents Concrete Messages about street art by the world's most famous street artists on the separation wall between Israel and Palestine.
-Lasse Fabel (SE) performs live with his poetic rap from the new poetry book and CD Det är inte så populärt med känslor i Sverige (Feelings Aren't That Popular In Sweden).
-Works from the Joanna Rytel Art Video, questioning the taboos of modern society.
-Slideshow from the last 10 years of Dokument Press
Live and DJ performance by:
-Marcus Price
-Trinity Sound System
-DJ Salla
-Lasse Fabel
-The Bird Who Fell to Earth
-Ola Bergman
Where:
Södra Bar, Mosebacke torg, Stockholm, Sweden
October 13, 20:00-02:00
Free entrance!
Cake and giftbags to early arrivers!